---
This document was originally written for a friend to keep with the garters I tablet wove for her in late 1993. Some minor changes accompanied the move to the web.
This document is provided as is without any express or implied warranties. While every effort has been taken to ensure the accuracy of the information contained, the author assumes no responsibility for errors or omissions, or for damages resulting from the use of the information contained herein.
Permission is granted to make and distribute verbatim copies of this document for non-commercial private research purposes provided the copyright notice and this permission notice are preserved on all copies.
---
Wedding Garters
---
© 1993, 1999 Carolyn Priest-Dorman
---
I wove these wedding garters for a friend in December 1993. She wore them on the occasion of her marriage, 1 January 1994. The theme of the wedding was Elizabethan; the bride and groom wore reproduction Elizabethan clothing.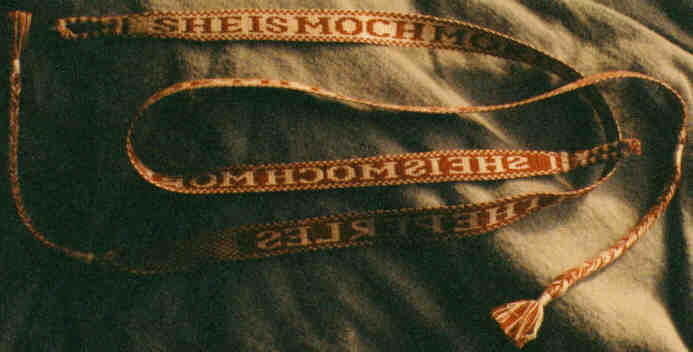 The garters are tablet-woven of red and white lacemaker's silk. Although conceived as part of a late sixteenth-century woman's dress, their appearance was inspired by seventeenth-century pilgrims' ("Jerusalem") garters.
The garters are 52.5cm long, 1.1cm wide.
The red silk was hand dyed using madder root, a small quantity of oak galls, and an alum mordant.
The inscription is woven in double-face double-turn, a reversible weave. The lettering is drafted on sixteen cords. The tubular-woven loop and the hanging end are plain weave, the former in stripes and the latter in small checkering. The hanging braid is a five-strand guilloche inspired by braids bordering some of the tenth-century tablet-woven relics of St. Cuthbert.
The text of the inscription is "she is moch more worth the perles." This is taken from the Coverdale Bible's (1535) rendition of Proverbs 31:10: "Who so fyndeth an honest faithful woma[n], she is moch more worth the[n] perles." Proverbs 31:10-25 outlines some of the salient qualities of a virtuous wife, including such talents as skill with handiworks, business acumen, and wise counsel. The education and upbringing of a noblewoman in the Protestant England of the sixteenth century would have included, for the first time in history, familiarity with the Bible in English. Accordingly, this text is both a literary reference resonant with meaning for an educated noblewoman of the time and a wish for the fulfilling of a spiritual role model equally highly regarded in the late 20th century.
---
This page was created on 7 November 1997 and last updated on 4 October 1999.

Search this site | Back to Þóra's Textile Resources

No soliciting! | capriest@cs.vassar.edu