---
This document offers to Viking Age re-enactors a simple pattern for a basic man's hat.
This document is provided as is without any express or implied warranties. While every effort has been taken to ensure the accuracy of the information contained, the author assumes no responsibility for errors or omissions, or for damages resulting from the use of the information contained herein.
Permission is granted to make and distribute verbatim copies of this document for non-commercial private research purposes provided the copyright notice and this permission notice are preserved on all copies. The definitive version of this document resides at http://www.cs.vassar.edu/~capriest/manshat.html.
---
Þóra's Basic Viking Hat
text © 2004 Carolyn Priest-Dorman; pattern © 2001 Carolyn Priest-Dorman
I developed this pattern because I was weaving a narrow width of vegetable-dyed wool cloth to make a special hat for a dear friend, Macsen Felinfoel. It needed to be plausibly Viking Age in shape and be something that could be cut out of a length of cloth no wider than seven or eight inches. For years I'd relied like most re-enactors on the old "phrygian" style men's cap which is of course not at all like the actual, ancient Phrygian cap in shape. But I wanted the cut of this hat to be as special, and as well thought out, as the cloth from which I cut it. Because not much is known about the shapes of Viking Age hats, I had to cobble together a few bits of information and make a best guess. This is the result.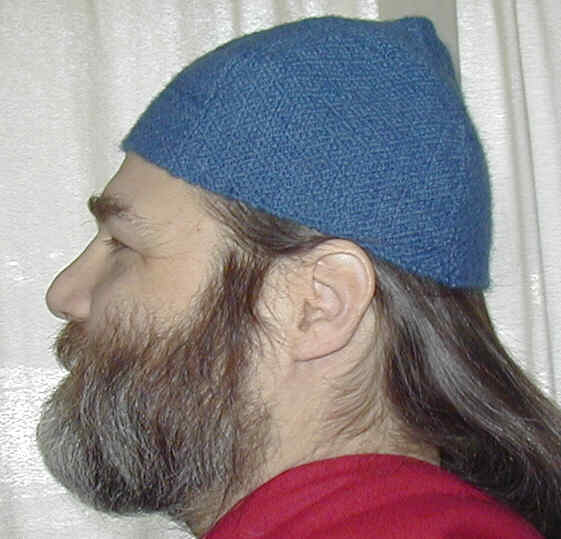 As you can see, the basic shape of the hat is slightly conical, which was in line with the imagery from the period as well as looking rather fetchingly like a leather helm executed in cloth. We've had great fun figuring out silly names for it; no doubt several of the same obvious names and comparisons will occur to you!
It relies on four identical pattern pieces whose shape is basically the same as those in two archaeological discoveries: the leather cap of the Tollund Man (a pre-Roman Iron Age find in Denmark) and some of the headwear found at Moscevaja Balka, an eighth and ninth century burial ground with a Scandinavian influence near the Black Sea in what is now Turkey.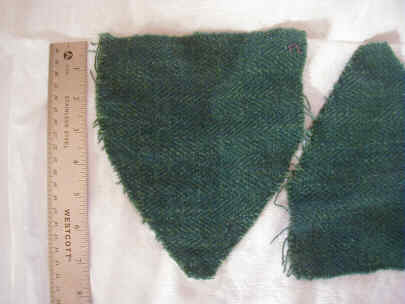 The pattern can be altered to fit any head; depending on hair thickness and what kind of cloth you use, the proportions used in this one work well for a head about 22" around. If you place the pieces in an alternating fashion as illustrated above, you can get a hat like this from a strip of cloth slightly less than a yard long, as long as the cloth is at least seven inches wide and has a presentable selvedge. If you want a hemmed edge, or a slightly taller hat, I recommend an eight inch wide cloth to be on the safe side. The hat can also be made taller by sewing a plain strip all around the bottom edge; the Tollund Man's hat was made that way.
This is a very basic pattern that we've had fun adapting to various purposes. If you make a spiffy hat from this pattern, I'd love to hear about it or see a photo.
In 2003 the Historiska Museet in Stockholm put up a Viking costume website including a hat based on a similar pattern. It explains a great deal about the decoration of the hat, but little to nothing about the origins of the pattern. You can see the whole outfit here, or if you just want the downloadable pattern you can go here.
And for all you textile geeks out there, here's a little information about the textiles in the figures, which are based on Danelaw textiles.
The first photo is of Dof wearing his hat. I wove it of Icelandic eingirni wool yarn which I dyed with woad. The weave structure is the "Jorvík lozenge," a broken lozenge twill textile from Period 4B at York (Jorvík 1308), circa mid-tenth century.
The second photo is of two pattern pieces for another hat. I also wove this one of Icelandic eingirni wool yarn. I dyed the yarn first in a weld exhaust bath and then (somewhat inexpertly) overdyed it with woad, giving it a nice streaky heathery forest green color. The herringbone weave structure, with a threading break after each 16 ends, was inspired by sections of Jorvík 1303, one of the Period 4B herringbone textiles at Jorvík that is thought to have been of specifically foreign, possibly Icelandic, influence.
You can read more about the Viking Age textiles from York in Penelope Walton's Textiles, Cordage and Raw Fibre from 16-22 Coppergate. The Archaeology of York, Volume 17, Fascicule 5. York: York Archaeological Trust and the Council for British Archaeology, 1989.
---
This page was created on 21 January 2004 and last updated on 23 February 2004.

Search this site | Back to Þóra's Viking Resources No soliciting! capriest@cs.vassar.edu